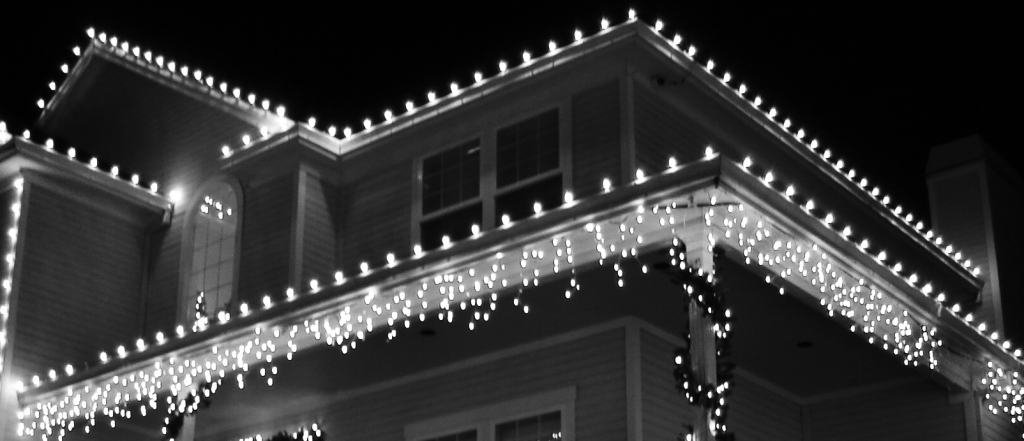 It's that time of the year when households are unearthing tangled cords of holiday lights from the bottoms of boxes in their garage storage space. If you count yourself among them we urge you to pause for a moment before illuminating the ledges of your home.
You see, year after year homeowners that don't take the necessary precautions damage their gutter system in some manner by hanging hoards of lights from their roof's appendages. However, we understand that this news won't necessarily dissuade you from climbing up there on your ladder over the next few days to do so. Thus, in the spirit of the season (and to not be a Scrooge declaring the end of dangling outdoor lights) we thought we'd provide you with tips to working around hanging lights on your home's gutters.
How to Protect Your Gutter System When Hanging Lights for the Holidays
1. Clean and Inspect Your Gutters Thoroughly for Damage 
We can already tell you that the first item in every one of our blog posts will likely be to "clean and inspect". This cannot be overstated. Before doing anything that involves your roof your gutters need to be cleaned of debris and inspected for any damage whatsoever, especially during this time of the year. When you attach lights to your gutters you add weight (see item #2), so removing debris from the area will prevent any excess weight that could serve to damage or bring down a weak gutter system. If the thought of climbing up on your roof to do this is a bit of a turnoff, then you will want to consider bringing in a professional to do the job for you, before you string your lights. We also encourage you to read through this five item list on how to prepare your gutters for the winter.
2. Don't Give Your Gutters the Clark Griswold Treatment
Resist the urge to channel your inner Clark Griswold (a la National Lampoon's Christmas Vacation) and claim the brightest roof on your block this Holiday season. When you hang too many lights from your gutters gravity kicks in and damage can ensue. While there is no "rule of thumb" for weight given that all households have unique gutter systems common sense can be a great guide in this capacity. The thicker your gutters, the more they can take. If you notice even the slightest "pull" on your gutters when hanging the lights you should opt to put the heavier cabled variety on your front yard trees, hedges, and fencing instead. Keep the gutter lights light, and your home will stay bright and safe for the Holidays.
http://youtu.be/0ar-__ub0rc?t=1m13s
3. Use Gutter Clips and Kits Made Exclusively for Hanging Christmas Lights
Don't attempt to MacGyver your lights onto your gutters with makeshift methods. There are gutter clips made exclusively for hanging lights available at your local hardware store right at this very moment. Standard dimensions of sound gutter clips are as follows; 1.88 in. W x 1.13 in. D x 2.63 in. And unless you have a truly unique set of outdoor lights most clips will accept C7/C9 varieties, mini-lights, tube-lights and icicle-light sets. In addition to the clips, you may consider a light-hanging kit for ease of clip/light installation AND for your own safety. These kits attach your strings of lights to clips, fasten the clips onto a pole and subsequently extend the pole and snap the clip into place on your gutters. These will be available at major hardware retailers such as Home Depot, Lowes, and the like.
4. Working Around Gutter Guards
Many homes have gutter guards in place, which can be great, yet a bit of a nuisance when attempting to hang lights safely from them. One simple workaround involves the use of moisture-resistant, adhesive-backed gutter clips. These will affix to the front of your sturdy gutters and allow you to hang the lights without obstruction. Adhesive gutter clips can also be found at practically any major hardware retailer at this time of the year.
5.  Attach Your Lights to Your Shingles
This alternative to hanging lights from your gutters is only viable if you have strong shingles on your roof. If you do, then you'll be saving your gutters from seasonal wear and tear by taking to the shingles to dangle your flare. Once again, professional grade clips, made exclusively for hanging lights from shingles (vs. gutters), is the way to go. You'll want to find shingle clips that allow you to install a fully assembled light string that saves you effort. The less time you spend fiddling on the roof the less opportunity for gutter damage. Single clips should also come with universal design, accommodating the smaller necks of newer LED cords and be able to hold C6/C7/C9 light stings of both the incandescent and LED icicle variety. Hanging your lights on shingles can be a little aesthetically tricky when you live in a climate conducive to heavy snowfall, as the single-bulb lights tend to get covered, so you may prefer to opt for icicle lights when using this method in colder climates.
If you have any concerns about your gutter system's ability to handle your holiday light load this season, and you live in the Lower Mainland / Greater Vancouver area, do not hesitate to contact Aqua Seal for your gutter inspection, cleaning, and repair needs.