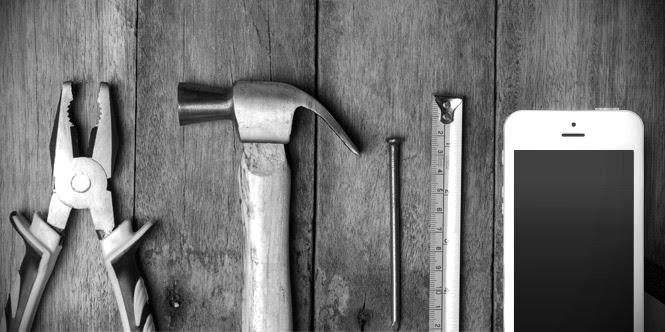 Gutter repair and maintenance will always require traditional tools such as power drills and caulking but there is no denying technology's ever-increasing role in exterior home upkeep. That's right, the tired but true expression of "there's an app for that" can now apply to gutter installation, repair, and maintenance in all of its forms. While smartphone/tablet applications won't actually beam your gutters in place onto your roof (yet?) they can lend a helpful hand for your next DIY project. Download the following apps and you'll be on your way to easing the work surrounding the eaves of your home.
5 Apps That Can Help With Your Gutter Maintenance and Repair Projects
1. Pitch Gauge
This popular and (very) well-reviewed app is especially essential to any gutter installation or replacement project. The slope (or the pitch) of gutters is calculated by the amount that gutters slant downward along the path of rainwater flow. If the pitch is off, rainwater (and carried debris) will either pool and spill over onto your property or there will be a capacity reduction in your gutters resulting in significant splash-over. You simply can't let your "naked eye" be the judge when installing/replacing a gutter section on your roof. This is where Pitch Gauge comes into play. Made to calculate the total size and slope of your roof, Pitch Gauge can also aid in determining optimal gutter pitch. Pitch Gauge includes two digital slope finders which are made operational in camera-mode, and a square calculator. You can determine slope from the ground of your yard simply by taking a picture with the pitch reading of both your roof and gutter, appending your home address to it and attaching all of the information to an email for your own record keeping purposes. This is a sophisticated tool that allows you to calculate pitch for numerous and complex sections of your roof (which is where the benefit to gutters factors in). FREE (iPhone/iPad and Android)
2. A1 Builders Calculator
For those looking for more than pitch calculations on your gutter maintenance project A1 Builders Calculator may be for you, especially if you have other big home improvement projects slated for the year ahead. A1 is a user-friendly comprehensive construction app that allows you to perform essential calculations of current home repair projects (gutters included) and to gain immediate conceptual designs for new ones. This app will be a big help if you are looking to install an entirely new gutter system for both functional and aesthetic reasons. The app includes unique roofing, framing, foundation, masonry, measurement, and landscaping calculators (to name a few) and can measure rafters, equal spaces, running measurements, stud spacing, and yes…gutter pitch too. FREE (iPhone/iPad)
3. Fluid Mechanics Calculator
This is where things get really sophisticated. While the above two apps will help you with a variety of "above ground" home exterior projects (practical for most homeowners) the Fluid Mechanics Calculator is very gutter-centric. This beast of an app includes 97 calculators that will seamlessly calculate (w/conversions) different fluid mechanics. Within this comprehensive database of calculations is gutter flow rate, gutter capture efficiency, gutter carryover, gutter interception capacity, and slotted pipe gutter interception. This is the most all-inclusive fluid mechanics calculator around, and recommended for those of you looking to become intermediate gutter repair specialists for your own home (promise not to put us out if business??). $3.99 (iPhone/iPad and Android)
4. Roof Area / Rain Flow & Gutter Calculator
The name is self-explanatory, stating that this is yet another gutter-focused smartphone application to serve your needs. The app includes three directly applicable functions, including a roof area calculator, a rain flow calculator and a guttering helper.  The rain flow calculator is especially helpful (which works after calculating the effective roof area), allowing you to estimate the rainfall flow per second coming from your roof. This provided information will help you determine the right type of gutter system for your roof. It is great to see within the notes associated with the purchase of the app, the recommendation that you should consult a professional gutter repair specialist when making any decisions based on the results of their application. This is basically true of ALL recommended apps for home construction projects. $1.99 (iPhone/iPad)
5. Lowe's App
DIY home repair aficionados that are "in touch" know that Lowe's leads the way when it comes to online tips and tricks for a multitude of home improvement projects. Their extremely popular Vine (try not to get addicted to it) is a testament to this fact. It simply makes sense to add their smartphone/tablet app to your mix when anticipating gutter maintenance. At some point during your gutter-based projects you will need to reference information on tools and supplies necessary to complete the job/s and their app will fill in the blanks, including info on what's in stock at your local Lowe's and allowing you to hold and pick-up purchases in store, or have them delivered to your front door. FREE (iPhone/iPad and Android)
Stay tuned to our gutter repair blog for more innovative ways to care for this important fixture on the exterior of your home.