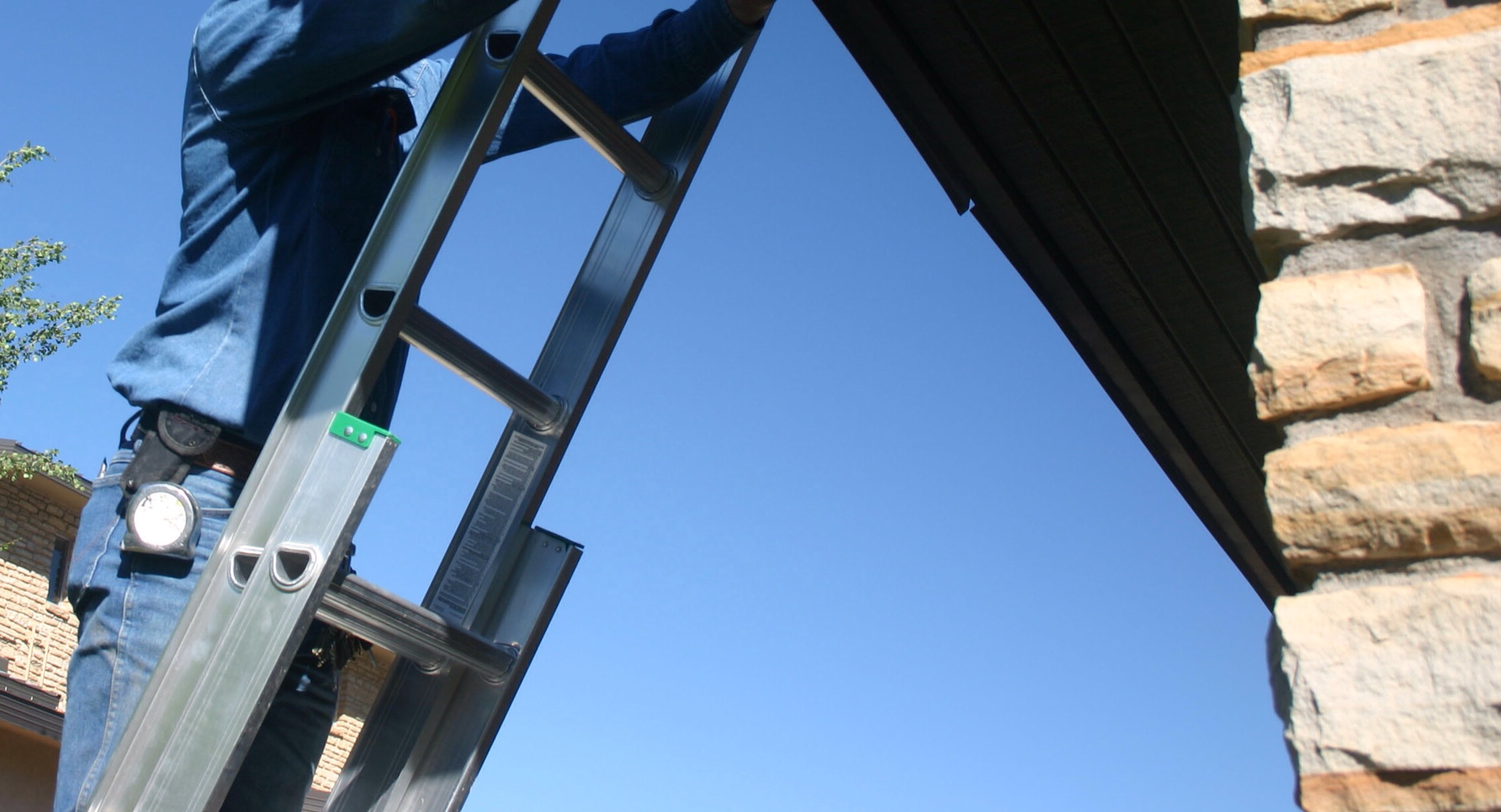 We've all been there. You take on a do-it-yourself (DIY) project to make some sort of small repair, and end up making matters worse. It's the curse of the DIY. Unless you are a professional in the respective trade (mechanic, carpenter, plumber, etc.) there is always a risk involved, no matter how many instructional YouTube videos you view. When it comes to gutter repair, the same is true. With the season changing you may be planning to clean, inspect and fix any issues on your gutters. Before you do, do yourself a favor and read ahead.
6 Things to Consider to Avoid Further Damage to Your DIY Gutter Repair Project
1. Protect Your Gutters from Your Ladder
The ladder is likely the biggest culprit in DIY gutter repair damage. You climb up to innocently tighten some screws or ensure spikes are sturdy in your fascia board, lean your ladder against the aluminum, and it happens – a big dent in your gutter. Learning how to position your ladder will go a long way in preventing self-inflicted damage. Your best bet, is to buy a Ladder Mount. A ladder mount (found at your local hardware retailer) fits inside most 5 and 6 inch gutters. The mount secures your ladder in place, dispersing the weight of the ladder against the fascia and not your aluminum or vinyl gutter. Look for a mount that is designed to dock over your gutter system's spikes and ferrules for additional stability. Some people use Ladder Standoffs but unless you're a professional that spends practically everyday up there on the roof you had best stick to the more stable mount option.
2. Prevent the Unintentional Expediting of Corrosion
Corrosion is a natural process that leads to the gradual destruction of metals through a chemical reaction with their environment. It is electrochemical oxidation of metal that occurs when exposed to an oxidant such as oxygen. Corrosion, is an aluminum/steel gutter killer. While corrosion for the most part does occur from natural causes the process can be sped up when the surface is damaged and exposed during your own handling of gutters. Poor handling, storage, transport, and post-repair reinstallation can lead to dents and scratches that expedite the corrosion process. Don't give this electrochemical oxidation a head start when attempting a DIY repair. When temporarily storing your gutters in your garage or transporting them in your vehicle keep layers separated with cardboard, cover them, and keep them out of contact with ALL other items, solutions, and materials.
3. Be Mindful of Mismatched Materials When Fixing Big Leaks
Another major mistake made when repairing gutters is born from the use of mismatched materials and metals when patching cracks that leak. The very same corrosion noted above can occur from a chemical reaction between conflicting metals. Zinc gutters should not be patched with aluminum flashing or vice versa and so on and so forth for all varieties of steel, copper included. This rule of mismatched materials also applies to vinyl gutters. Use the exact same material that your gutters are made of for your patch/flashing.
4. Don't Use the Wrong Sealant When Fixing Leaks
Don't skimp when is comes to the sealant that you use to fix gutter leaks. That old tube of caulking or cementing plastic in your toolbox used for basement repairs will not also work on your gutters. You must buy a sealant specifically made for your aluminum, zinc, copper, or vinyl gutters. Otherwise chemical reactions (again!) may occur and leaks will certainly return.
5. Protect Your Home Exterior from Poor Gutter Paint Jobs
Gutters play a big part in the curb appeal of your home. You may have completed your gutter repair without consequence but your cover-up paint job may leave your home exterior looking worse for wear. Institute traditional best practices when painting over repair work, applying taped cardboard to the surrounding area so that both brush and airless spray paint doesn't splatter on your fascia board, roof tiles, and outer walls. Also make sure that you use the right paint and primer, both of which are detailed in our article on how to paint/repaint your gutters.
6. Coming to Terms With the Fact That Professional Repair is Needed
If after inspecting your gutters there is any, and we mean any, doubt in your mind that a DIY attempt may be too much for your knowledge and skill-set then we (and your spouse) urge you to to bring in a professional. This is the only surefire way to prevent any and all gutter repair problems. If your roof is located anywhere in the Lower Mainland BC area you may contact us, anytime.